Topic - Halloween
Have you ever wondered how clouds form? We all learn the water cycle in school - water falls from the clouds in the form of rain or snow and collects on the ground. The water on the ground heats up and turns to vapor and the vapor travels up into the atmosphere and creates clouds. But how do those clouds form? …
Continue reading…
November 5, 2012
By Loralee Leavitt, CandyExperiments.com
Kids love Halloween candy.  But too much candy can lead to stomach aches, cavities, and health problems.  What do you do if your kids collect more candy than you want them to eat?  Experiment with it.
At candyexperiments.com, we've created several experiments with candy that teach real science.  Here are some of our favorites.
Acid Test
Sour taste is caused by acid, so any sour candy contains acid.  Test sour candy such as LemonHeads, Nerds, WARHEADS, Pixy Stix, or sour gummy candy by dissolving it in about ¼ cup of warm water.  (If you're using hard candy like Smarties, crush it first to help it dissolve.) Let the sour part of the candy dissolve, whether it's the whole candy, or the shell (as with Lemonheads), or a sour powder coating (as with Sour Patch Kids.)  After the sour part has dissolved completely, sprinkle in a small spoonful of baking soda.  The dissolved acid reacts with the baking soda to create bubbles of carbon dioxide gas. The more bubbles you see, the more acid there is!
This experiment is especially fun to do with super-sour Warheads. Drop them into baking soda water, and they'll bubble right away.
Continue Reading…
October 31, 2012
By Jane Goodwin
Back in the days before people waltzed into the grocery store to buy packaged bread. . . even before the days when people baked their own bread using store-bought packaged yeast, people could still enjoy a loaf of light, risen bread.  They used Witches' Yeast, which people refer to more commonly as sourdough.  The science of Witches' Yeast is hundreds of years' old.  Why was it called Witches' Yeast?  Because it worked magic in the kitchen.
Early pioneers didn't think of witches' yeast as science; they considered the family jar of starter to be part of the heart of the home.  Pioneers cherished and regularly fed their family sourdough starters; brides took a jar of the family starter with them to carry on the tradition of fresh-baked bread in the home.
Sometimes, the family jar of witches' yeast would go bad, usually because of the weather or an accident, and a child would be sent to the neighbor's to "borrow" a cup of starter, and the feeding and growing of it would commence. (Skimming off a few insects was no big deal
Continue Reading…
October 26, 2012
By Blog Editor Susan Wells
To be the hit of your classroom or home Halloween party, all you need is a chunk of dry ice, some warm water, dish soap and a container. I shared some Halloween science at our Brownie Troop meeting this week. All 17 girls in the troop attended. Nothing like a promise of Halloween science to get everyone to the meeting.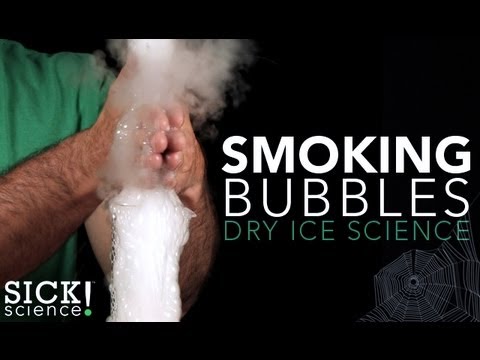 This is the easiest and by far most popular dry ice demo you can do. For our Brownies, I brought Vampire Veins (Insta-Worms), Boo Bubbles and created a few bubbling cylinders to set the mood. I was caught in a crowd of gloved hands as I made Boo Bubbles for several girls. When I was done, I looked over to my cylinders and there was a large group of girls playing with the vapor and bubbles. No matter how many times I set up the Bubbling Cylinders, they are always a huge hit.
Materials
Dry ice
Hammer
Dish soap
Graduated cylinder (or similar container)
Heavy glove
Warm water
Safety glasses
Fill your graduated cylinder half-full with warm water. If you don't
Continue Reading…
October 24, 2012
By Blog Editor Susan Wells
One of my responsibilities at Steve Spangler Science is to get to know bloggers by reading their blogs, leaving comments and sharing with them. Mom bloggers are incredibly creative. All of us at the Spangler Labs enjoy seeing twists on our experiments as well as new activities and science lessons that come out of the parent blogging community. Here is our choice for the top 20 blog posts for Halloween from some of the blogging world's best kid bloggers. Not all activities are fully science-related, but all are unique and creative and will give your Halloween some extra fun.
If you see an idea below that catches your fancy, share it with your friends, family and blog readers. Just keep in mind that if you like it, link it. Give credit to the originator of the idea. Then go out and come up with your own unique idea.
1. Glowing Goblin Goo
from Growing a Jeweled Rose
2. Sensory BOO Bottles 
from Mom 2 Posh Lil Divas
3. 5 Science Experiments for Halloween
from Science Sparks
4. Halloween Science Fluorescent Chlorophyll
from Inspiration Laboratories
5. Bones.
Continue Reading…
October 22, 2012
One of our Facebook friends, Heather Kaiser, recently shared a very cool way to use our new Vampire Slime during a party, in the classroom or anytime you want to create a spooky activity.
Vampire Slime is a brand-new concoction from Steve Spangler Science. The unique green slime shimmers and shines red when put in the light. Is it a vampire in disguise or just some gloppy goo?
Heather is an elementary STEM lab teacher in North Carolina who put this question to the test. Hold the slime up to a mirror in the dark. Shine a flashlight on it from behind. The slime turns red and the vampire appears. Or does it? Look in the mirror and the slime is still green.
Everyone knows vampires can't see their reflection in a mirror!
A special thank you to Heather for sharing this very cool activity.